Keeping a clean home is important to the health of our families and pets. There are instances, however, when finding time to dust, vacuum, wash the floors and scrub the tiles is almost impossible. Life is busy! We get it. But there is no reason to fret. There are people who can help! That's us – MistCont! We are a team of cleaning professionals who will gladly help you keep your house in tip-top shape with recurring cleanings. 
A recurring cleaning refers to cleaning that is done regularly to keep your home tidy and organized. During a routine cleaning professionals take care of highly used surfaces and high-traffic spots in your home (like kitchens and bathrooms). You decide how often you want maid services provided. Most common options include: 
Weekly

: If you have a busy schedule or if your home life tends to get hectic, this is a great option for you. Professionals clean your home once a week to prevent it from getting too messy. They usually come the same time each week and work around the same areas – unless there's a previously discussed change or you want a service added. 

Biweekly

: Cleaning services are provided every other week or twice a month. 

Monthly

: This is a good option for someone who does spot cleaning but needs help maintaining a well-kept house. There are various services you may want to get done once a month. 
If you want to ensure that dust, grim, and grease do not build up in your home, consider using recurring cleaning services. MistConts offers weekly, biweekly or monthly cleanings depending on your needs and preferences. All you need to do is reach out to us to get started.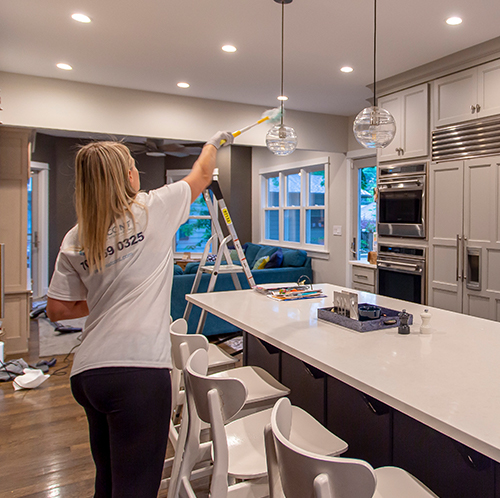 Benefits of Recurring Cleanings
Recurring cleaning, also known as maintenance cleaning, is about keeping all surfaces clean on a regular basis. There are many benefits to recurring cleanings: 
They help preserve the quality of various materials. Build up such as water and food stains, dust, mold, and grime wear common surfaces (like granite, chrome, and wood) down. It's therefore important to keep them nice and shiny, so they can last longer. 

They save you time. You don't have to worry about cleaning yourself! While we keep your home tidy, you get to spend quality time with your family making wonderful memories. Priceless! 

They reduce allergy symptoms. The regular removal of dust and other allergens can greatly improve the quality of air inside your home. Be mindful though that if you observe a lot of dust accumulation in a short period of time, it may be a good idea to have your ducts cleaned, too. 

They prevent mold from growing. Regular disinfection and good ventilation help keep mold away. Once mold starts growing in your bathroom, it can be very hard to remove, so don't let it start growing in the first place. But what if you do find it?  How do you remove it? You need a lot of scrubbing with strong chemicals! In some cases tile regrouting or mold remediation on walls may be necessary. Changing shower curtains and door seals are also good ideas. 

They help keep your home ready for visitors. If you like having company over, or have friends who like to pop in unexpectedly, getting ready and cleaning up in a hurry may sound like a bother. Having routine cleanings will give you peace of mind and help you keep your home organized. Surprise visitors? No worries!

They help you keep up with young children and pets. As we all know, pets can really speed up the build up of dust, grime and dirt. So can little kids! Those tiny fingerprints can quickly be all over stainless steel appliances, windows and cabinets.You name it! Regular cleaning will keep the mess at bay.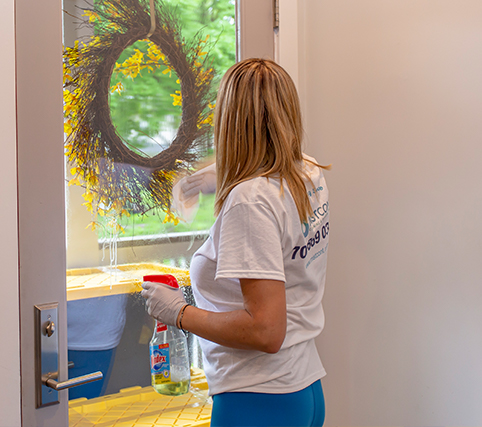 What to expect during recurring cleaning?
There are many things that a professional will do to ensure your house is cleaned. You can choose the tasks they work on when they arrive at your home, or they can perform their standard cleaning.  Maybe you've got more specific needs – we've got you covered either way! Our cleaners have a basic to-do list for recurring appointments. Here is what it includes: 
Dusting
Cleaning bathroom areas (tubs, toilets, sinks)
Cleaning kitchen areas: wiping down counters, backsplashes, spot-cleaning cabinets
Vacuuming and mopping
Cleaning outs smaller appliances and outsides of bigger appliances
Cleaning ceiling fans and blinds
Cleaning doors and baseboards
Do you need something else done? For an extra fee we will accommodate all your needs. Don't wait, give MistCont a ring!
Is recurring cleaning right for you? 
Balancing work, family time, chores and leisure can be overwhelming. That's why it's always a good idea to have help. With recurring cleanings you won't have to worry about keeping your house dirt-free. Let us make your life easier. We'll take care of your home like it's our own, and you'll have more time to spend with your loved ones. 
If you need a break, don't have enough time on your hands or have an unexpected guest – we'll make sure your home is tidy and ready to host. Think about how much time you spend cleaning, scrubbing and washing each week – and how you could better spend it. Consider investing in a regular cleaning service. There are so many reasons why it's worth it. You get a clean house with a reduced number of viruses and bacteria, which helps keep your family healthy. You also get more time for you to do whatever you need or want. Remember that a clean home is a happy home. Stress levels are reduced in a tidy, organized environment. Less stress means better relationships among your family members. That is what we all want. 
Contact us
Do you have more questions? Are you ready to hire friendly, professional and hardworking cleaners? MistCont is waiting for your call! We offer flexible scheduling and affordable cleaning solutions. We'll help you choose the best cleaning option for your needs and budget. Don't hesitate any longer. We're here to help!