Moving can be very exciting but it also requires a lot of organization, patience and caution. From packing to decorating, the to-do list is always long. And if you have children or pets – the stress can be overwhelming. No reason to worry though, because MistCont is here to help! We can take care of cleaning out your house or apartment right after you move out and before you move in. We will help you prepare the space for you or new tenants, so you can focus on other things, such as getting settled. 
Professional cleaners at MistCont will work tirelessly to bring your home to tip top shape. Using the best methods and tools, we will make your house or apartment look better than ever before. We want to make your moving experience smooth and worry-free.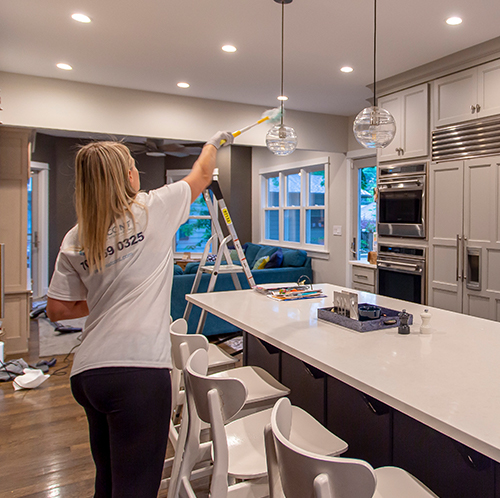 Move-Out Cleaning 
Whenever you're moving out, it's always a good idea to clean up your apartment or house. It will help you get your security deposit back. In addition, you'll be leaving the place clean for the next tennants. In case you're selling the property, then cleaning is a must. You definitely want to show off your space in the best possible light. It needs to be spotless for pictures, open houses and walk-throughs.
The experienced cleaning crew at MistCont can help you clean your home top to bottom right before you move out. We'll check every corner to ensure the place is spotless. There are two versions of cleanings you can get – a classic move-out cleaning or a premium one. 
If your home was well-maintained (with just moderate build up), and you're on a tighter budget, then the classic move-out cleaning should be right for you. 
However, if your home is being prepared for a photo shoot or an open house, or if it was seldom cleaned (buildup of grease, grime, mold, scum, dust, dirt, debris is heavy), or you need to leave the old home flawless for the new occupants, then a premium move-out cleaning would be a better option. 
Move-In Cleaning
Moving into a new apartment or house can be very exciting. The feelings of a new beginning and a fresh start are exhilarating. Nevertheless, there is still a lot to do before you can actually move in, like clean and prepare your new home for new tenants and furniture. This is where MistCont steps in. We can help you take care of this step of your moving journey. We can clean your new home thoroughly so it's ready for the next chapter. Whether it's brand new and needs a touch up, or has been "lived-in" and needs a deep clean, we can do it all! 
Just like with the move-out services, we offer a general move-in cleaning and a premium one. If your home has just been constructed, or if it was well taken care of, or you just want to clean it once more after all the inspections and tours, then our classic cleaning service should be a good fit for you. 
A premium move-in cleaning is right for people whose homes are older, or poorly maintained. If there's a lot of buildup, debris, dust, and mold, or if a move-out cleaning service was never performed, then go ahead and schedule a premium cleaning. You're more than likely in need of a deeper scrub to make the place look spectacular.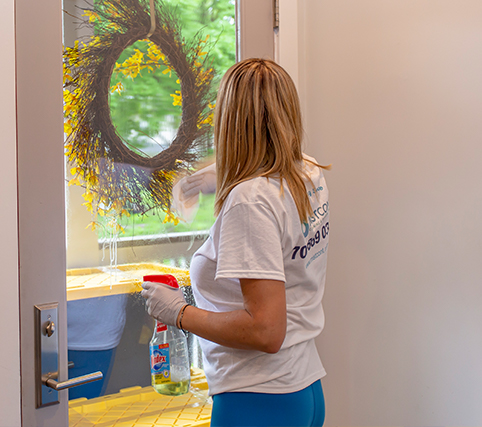 What's included in a move-in or a move-out cleaning? 
While move-in and move-out cleaning services are highly customizable, there are certain standard steps that apply to our MistCont moving services. It should be noted that it is assumed that the house or apartments is empty and unoccupied at the time of the cleaning.
Our general (classic) move-in and move-out cleanings include: 
Dusting (all surfaces, among them floors, fans, lights, blinds, cabinets, baseboard etc.)

Wiping (mirrors, glass doors, cabinet doors)

Vacuuming (floors, carpets, insides of cabinets and closets)

Kitchen cleaning: sinks, countertops, appliances (fridge, stove top, microwave, dishwasher), backsplashes, ventilation hoods 

Bathroom cleaning: scrubbing and sanitizing shower/tub, faucets and toilet

Mopping floors

Emptying trash cans. 
Premium services are offered for deeper cleanings. They include the general package plus many other services, such as vacuuming blinds, hand-wiping lights, baseboards, cabinet doors, outlets, light switches, cleaning inside windows, moldings, windowsill, ledges, as well as hand wiping doors and doorframes.
Benefits of hiring MistCont for a move-in or move-out cleaning
Move-in or move-out cleanings can be stressful and time consuming. There are many reasons why it may make more sense to hire pros instead of doing it yourself. 
New Beginning

– Moving to a new house and a new neighborhood can be challenging. Before you unpack all your belongings, you want to make sure that the place is clean and sanitized. MistCont can help you get a truly fresh start. 

Stress Reduction

– Packing, moving, unpacking, decorating, coordinating among every day responsibilities – it's all very stressful. Allowing professionals to take care of the cleaning aspect of your move can be a huge relief. 

More Time-

Move-in and move-out cleanings can be done scheduled and completed within days, which gives you more time to take care of your needs. 

An Expert Clean

– As we've described above, our move-in and move-out services include long lists of tasks that will be performed by the cleaners. You can always customize the services, too. Our skilled team of pros will make your house squeaky clean. 

No Contract Required

– A one time move-in or move-out cleaning service does not require you to sign any contracts. Of course we hope that you'll reach out to MistCont for all your future cleaning needs, too!
Reach Out to MistCont today!
MistCont is a family owned, local company that's been in business for over a decade. We've got the skills and experience to clean up any mess. If you're in need of move-in or move-out cleaners, then look no further than MistCont. We'll provide a clean that you can see, feel and smell. Our professionals are meticulous and thorough, getting deep into every corner, nook and cranny. We won't miss a spot! When you hire MistCont, you can expect only the best results. Call us to get: 
Free cleaning quote

Customizable cleaning plan 

More Information
Let us take care of your cleaning needs!